Utility Policies and Procedures
Utility Nonpayment Disconnection Policy
Drinking Water Quality Reports
2021 Drink Water Quality Report
BILLS ARE MAILED AT THE END OF EACH MONTH AND DUE ON THE 15TH OF EACH MONTH.
A drop box is located at Town Hall, 105 S. Shelby St., Blacksburg, SC 29702
Debit/Credit card payments can be made in our office or over the phone. There is a $3.00 convenience charge for this service.
A 10% penalty will be added to a bill paid after the 15th.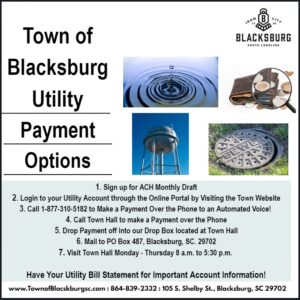 Normal Business Hours Are:
Monday-Thursday
8:00 AM-5:30 PM
Phone: (864) 839-2332
Emergency After Hours Only:
Phone: (866) 967-6948
Find detailed information on payment options, late fees, and penalties here:
Utility Billing Online Payment Information
To apply for water and sewer services in the Town of Blacksburg stop by our office during normal business hours. You can download the application for services here: