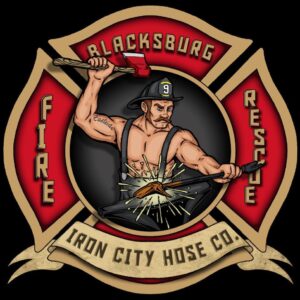 About the Blacksburg Fire Department
The Blacksburg Fire Department is an all volunteer department located in Cherokee County, South Carolina, which joins the North Carolina state line on I-85 northern corridor and Spartanburg County, South Carolina on the I-85 southern corridor. Our Department serves the area of approximately 55 square miles. This area includes the Town of Blacksburg and rural areas outside the town limits. Our department answers automatic first alarm assignments on the east side of Cherokee County. Much of the area we cover outside town limits includes farms, churches, schools, and wooded areas, which makes up 40 to 50 percent of our fire volume and has an unemployment rate of 14%. Our Department is in a central location for all surrounding departments and schools. The population of the Town of Blacksburg is approximately 9,429 based on a County assessment done last year and is rapidly growing, and of this 40 percent are either children under 14 years of age or adults 65 years or older and of this 60 percent live in the high risk rural areas in which we serve. Currently and in years past the County has looked to our Department to lead the way in Fire Prevention and Education.
Visit Blacksburg Volunteer Fire Department - Cherokee County, SC (blacksburgfire.com) for more detailed information.
CURRENT ISO RATING CLASS 3
Blacksburg Fire Department Original 1941 Chevrolet. Engine
Restored and on display at the Blacksburg Museum
Re-commissioned on October 11, 2015
Fire Chief
Donovan Ford
104 E. Cherokee St.
PO Box 141
Blacksburg, SC 29702
Phone: (864) 839-6061
Email: [email protected]