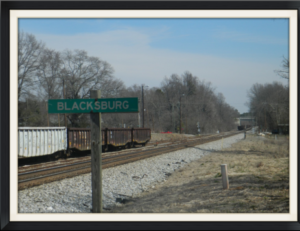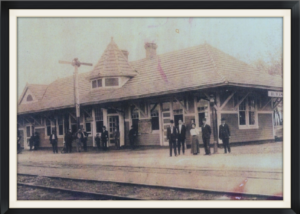 History of Blacksburg based on "The Old Iron District" by Dr. Bobby Gilmer Moss
Major John F. Jones built the C. C. & C. Railroad through Black's Station, Shelby, and Rutherfordton. He made the decision to relocate the headquarters of the system to Black's Station and the shops, roundhouse, and general office were constructed in the town.
It was Dr. J.G. Black who had enticed the railroad to Black's Station with the promise of cheap land and his persuasive argument about the unlimited prospects of a growing town.  Major Jones accepted Dr. Black's offer and built his own home and the fifteen houses of the railroad workers which he constructed as a business investment.
In its 1888 session, the state legislature approved changing the name of the town from Black's Station to Blacksburg.
The prospects that the town was to become both a health resort and an industrial center were good in 1889.  Many people came to the town due to the perceived healing powers of the waters found in the many rock springs in the area.  Rich iron beds were located around Blacksburg as well.  Because of the minerals abundance, the town became known as the Iron City, a nickname it holds to the present day.